Discontinued - Not sold anymore.
We would recommend Quikrete Quick Setting Filler as an option. You can buy small plastic containers of it at any local hardware store.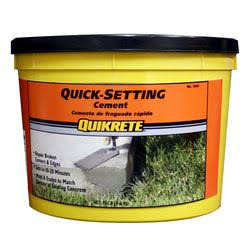 There are yet no reviews for this product.
Please log in to write a review. Log in
Loading comment...
The comment will be refreshed after

00:00

.
We will reply to your comment shortly

We will reply to your comment shortly

Just added on to deck with new boards etc. Wondering if I should let new boards age a bit before using the "Deck Revive" or can I get ahead of the deterioration game by applying the Deck revive now?

We will reply to your comment shortly

We will reply to your comment shortly

1. So you are suggesting to apply the Quikrete over cracks and knots in the wood deck? Should the Perma Bond be applied first?
2. Can 1/2 of the dry grit be added to the DR for a smoother surface?
3. After the 2nd coat of DR, can a 3rd coat of DR be applied in a complementary color in some areas via stencils as long as it's within the 24 hour time?

We will reply to your comment shortly

I just purchased perma fill, perma bond, and deck revive for my deck. I was going to power wash it first but had to stop and won't be able to power wash because the wood was to old and would become worse from power washing . Is it absolutely necessary to power wash before using these products? I did get a deck cleaning detergent should I just wash it with that even though it probably won't make the wood look much better on it's own? I'm so bummed out I was so excited about this project now wondering even if I can proceed with it.

We will reply to your comment shortly

Yes, you have to pressure wash, and no, do not use the cleaner as it could cause an adhesion issue with the products. Your issue with the pressure washing is your technique is incorrect and too aggressive. Wash 6-10 inches away and with a pendulum motion. You may also want to hire a local pressure washing company to do the prep.

We will reply to your comment shortly

I am about to restore my wood deck, and plan to use Perma-Fill to plug any knots/cracks (using Perma-Bond first to spot treat), then use Perma-Bond as a primer, and then finally I will be using the Deck Revive along with paint. I have already pressure-washed the deck and am waiting for 48 hours without any rain before I can move forward with the project.

I have seen some conflicting information between the comments and instructions provided and wondering if you can please confirm the following?

1. Does my old deck need to be sanded before using any of the products? I have tried to use a belt sander put it is having a very hard time taking the paint off although in other areas the paint is literally pealing off. Please can you let me know if I need to peel/sand as much as possible, or can I leave as is? Attached are pictures of the current deck which has a ton of peeling paint and is more worn in other areas.
2. If I do need to sand, should I also do the same for all of the railings? Do you recommend a belt sander or an orbit/palm sander?
3. If we have no rain for 48 hours and I start on Day 1 with Perma-Fill (with perma-bond first), I then need how much time approximately before then using the Perma-Bond to coat the entire deck?
4. Once I apply the Perma-Bond, how long do I need to wait before applying the first coat of Deck Revive? I am hoping to finish all of this in 1 or 2 days, but again I need to be able to plan things around the fact we get a lot of afternoon Thunderstorms.

Thank you for your help!!

We will reply to your comment shortly

1. You will need to remove any loose/peeling paint first. You can cover the paint that is not peeling and is intact to the wood.
2. See above. Any sander will work.
3. As soon as the fill is dry.
4. Permabond and Deck Revive need to go on the same day. The fill can go on any day prior or the same day, it just has to be dry before applying the bond.

We will reply to your comment shortly

We will reply to your comment shortly

We will reply to your comment shortly

We will reply to your comment shortly

Hi, I have some areas with wood rot in my deck. What's the most recommended way to fill large gaps? Should I use something like wood hardener before perma fill? How big is too big of a hole not to use perma fill?

We will reply to your comment shortly

We will reply to your comment shortly

We will reply to your comment shortly

Not being sure how much Perma Fill I will need on a 435 square foot deck (not in real bad condition) some not holes and cracks. Is it allowed to return one gallon if it has not been opened?<br>Thank You.

We will reply to your comment shortly

We will reply to your comment shortly

I applied permafill to cracks and gaps WITHOUT applying the permabond first....... what's the worst case scenario ? best case?<br>plan to apply perbond over then revive

We will reply to your comment shortly

1. What is the life of PermaFill once it has been mixed?<br>2. Is PermaFill sandable?<br>3. Is PermaBond usable under any latex solid color stain (I am considering using on cedar siding)?

We will reply to your comment shortly

To expand on the previous question, you say to spot treat cracks with PermaBond , then fill cracks with PermaFill. Does this also apply to counter-sunk screw holes? Also, my deck is very large and will take longer to complete all these steps. Can I fill the cracks/screw holes with PermaBond and PermaFill now, then wait a month or two for better weather to apply PermaBond and DeckRevive to finish the deck? Thanks!!

We will reply to your comment shortly

I ordered the Deck Revive and Perma Bond but then I saw the Perma Fill. My deck is really old and weathered with deep grooves. Should I get the Perma Fill and start with that? If so, will the Perma Bond adhere to the Perma Fill? Meaning should I 1) Perma Bond 2) Perma Fill 3) Deck Revive. Thanks in advance!<br><br>-Amber

We will reply to your comment shortly

To apply this to an approximately 200 sq ft weathered deck. I will need the deck revive kit, the perma bond, the perma fill, and anything else other than a roller, possibly drop cloth, tape and a brush?

We will reply to your comment shortly

We will reply to your comment shortly

We will reply to your comment shortly